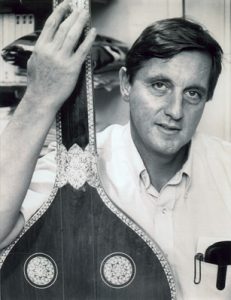 Jon B. Higgins was an extraordinary musician, scholar, teacher, and human being. An inspiration to many, he lived much of his student and professional life at Wesleyan University.
Born on September 18, 1939, in Andover, Massachusetts, Higgins had his high school education at Phillips Andover Academy, where his father taught English and his mother taught music for many years. He attended Wesleyan University and received his B.A. as a double major in Music and History in 1962, his M.A. in Musicology in 1964, and his Ph.D. in Ethnomusicology in 1973. He founded the Indian music studies program at York University in Toronto with Trichy Sankaran in 1971, and returned to Wesleyan in 1978 as a professor of music and Director of the Center for the Arts. He continually sought to strengthen the quality of Wesleyan's curriculum, and immersed himself in numerous cultural activities inside and beyond the university community. He also maintained a very deep relationship with his family, nurturing his role as husband and father. His generosity and warmth touched many people.
Jon Higgins was a superb singer of European and Western classical music. He is also recognized as the first non-Indian to perform South Indian classical Karnatak music at a high level of proficiency. He began his Indian music studies in Wesleyan courses taught by Robert Brown and T. Ranganathan, and was quickly captured by the subtle beauty of the art form. He decided to fully dedicate himself to learning the language of Karnatak music, and went to India on a Fulbright scholarship to learn from T. Viswanathan. Within a short period of time he performed to great acclaim at the Tyagaraja Aradhana, an important music festival in South India. He later continued his studies under the renowned dancer T. Balasaraswati, and wrote his dissertation on the dance music of Bharata Natyam. Higgins returned to India as a Senior Research Fellow of the American Institute of Indian Studies. He continued to perform Karnatak music, recorded several albums, and due to his widely-recognized sensitivity was honored with the sobriquet "Bhagavatar" (scholarly musician). A tragic accident cut short his dynamic life on December 7, 1984. We are thankful for his enduring legacy of promoting cultural understanding through the arts.
The Jon B. Higgins Memorial Fund was created in 2000 to support the South Indian music and dance program at Wesleyan University. The fund is used both to bring visiting artists to Wesleyan and to fund faculty and student research in India. For more information, please contact Fiona Coffey, fcoffey@wesleyan.edu
Photo courtesy of Rhea Higgins